On day six of our Pixar Day at Sea cruise, we enjoyed our last sea day. We started our day with a fantastic brunch at Palo, toured the ship in the afternoon, and then were entertained with Frozen: A Musical Spectacular. Learn more below.
1 – Brunch at Palo
We had dined at Palo for dinner earlier in the week, but I was really looking forward to brunch since I had enjoyed it immensely on another cruise. Palo offers an adult-only Champagne brunch on sea days and select port days. The brunch features Palo's signature pizzas, made-to-order entrées, seafood, a selection of international cheeses, fresh breads and pastries, desserts, champagne and mimosas. Reservations are required for all Palo dining experiences. There is a $45 charge for dinner and brunch, plus the cost of alcoholic beverages. The meal was fantastic, and I love the variety of foods you can get for brunch. Take a look at some of the menu options below:
2 – Atrium Lobby
Since it was our last day at sea, we wanted to explore the ship more. One of the areas we found ourselves over and over again is the three-deck atrium lobby. This area is where many meet-and-greet locations can be found. Reminiscent of splendid ocean liners from the 1920s and 1930s, a sweeping grand staircase, oversized portholes, and a grand piano highlight the stylish sophistication of the atrium.
The Art Nouveau-inspired chandelier on the Disney Fantasy cascades delicately downward from a massive stained-glass flourish on the ceiling in peacock hues of greens and blues.
Be on the lookout for dashes of Disney whimsy. Decorative bronze friezes featuring Disney characters line the balconies. Balustrades rising up the grand staircase are laced with whimsical designs. Panoramic elevator columns that face into the atrium showcase elaborate metalwork crafted with a hint of a familiar Mickey Mouse outline. Hand-crafted tile mosaics elegantly depict romantic moments from classic Disney films.
One touch of "Disney whimsy" truly stands out. As with each Disney Cruise Line ship that launched before it, the Disney Fantasy and Disney Dream have an atrium lobby statue celebrating a classic Disney character. On the Disney Fantasy you'll find Mademoiselle Minnie Mouse, cast in bronze and dressed in vintage fashion with a parasol and steamer luggage at her side.
3 – Enchanted Art
Throughout the Disney Fantasy, you'll also find more than 20 pieces of Enchanted Art, inspired by classic Disney characters and animations. This artwork immerses guests in Disney storytelling in a completely new way. As guests pause to admire an individual piece of Enchanted Art, it magically comes alive.
While Enchanted Art looks like other hanging art pieces around the ship, it is actually a framed LCD screen that utilizes technology to create special effects. Enchanted Art "recognizes" a guest is present and activates several seconds of animation. Guests may see new and different animation when they visit the Enchanted Art another time.
Examples of Enchanted Art on the Disney Fantasy…
A work of art that appears to be an animation cel from the Disney classic film "Bambi" springs to life … as Bambi's friends Thumper and Flower scamper and a butterfly flies through the scene.
A vintage photo of Walt Disney at his drawing board creates a magical moment for guests when the character Walt is creating becomes animated.
A "painting" of Peter Pan's Neverland Cove is fronted by a prop of a ship's wheel. When a guest moves the wheel, the painting comes to life and the guest navigates Captain Hook's ship around Neverland Cove.
Dual circus art posters featuring Dumbo and Timothy Q. Mouse flying from one frame into the other – a nod to the Disney Fantasy stern characters.
Walt Disney animating three clips that spring from his sketch pad featuring the "Fab Five" (Mickey, Minnie, Goofy, Donald and Pluto).
Fanciful animations of "Alice in Wonderland" inspired by Disney Legend Mary Blair's art.
"Pinkie Daisy" inspired by Thomas Lawrence's painting "Sarah Barrett Moulton: Pinkie."
4 – Flo's Café
While we were still very full from brunch, on other days, we found that Flo's Café was another great option for lunch or a snack just when you needed it. Flo's Café, located near Donald's Pool on Deck 11, is themed to popular characters from the Disney•Pixar film "Cars." The restaurant offers Luigi's Pizza, Tow Mater's Grill, and Fillmore's Favorites. This quick-service option serves snacks such as burgers, chicken tenders, pizza, fresh fruit, salads, and sandwich wraps. The food was typical of quick-service restaurants, and we enjoyed having this option during the cruise.
5 – Eye Scream Treats & Frozone Treats
Frozen sweet treats are available from two quick-service venues conveniently located near Donald's Pool on Deck 11. One spot that we often visited during the cruise was Eye Scream Treats! Eye Scream Treats, inspired by the friendly, one-eyed monster Mike Wazowski from the Disney•Pixar animated feature "Monsters, Inc.," offers soft-serve ice cream with plenty of favorite sundae toppings. This ice cream is included in your cruise fare, and you can enjoy as much as you want during the cruise!
If you're looking for a specialty frozen drink or treat, such as Dole Whip, then you can visit Frozone Treats, which is right next to Eye Scream Treats. Frozone Treats, named after the ice-creating superhero in the Disney•Pixar movie "The Incredibles," mixes delicious fruit smoothies and more. My sister enjoyed a Dole Whip and loved it. Items at Frozone Treats can be purchased for an additional fee while onboard.
6 – Sweet On You
If you're looking for even more sweet options, then head to Sweet on You ice cream shop on Deck 11 aboard the Disney Fantasy. This sweet shop is themed after the iconic Mickey Mouse cartoon shorts and designed with charming art details. The ice cream shop's décor features the fab five, including Donald, Goofy, and Daisy, and a photo op with Mickey and Minnie enjoying a sweet treat.
Sweet on You offers a variety of hand-crafted gelato, and ice cream flavors with specialty sundaes topped with whipped cream, sweet sauces, and a plethora of toppings served fresh daily. Specialty sundaes are served in exclusive bowls themed to Mickey and Minnie's colorful, whimsy attire.
Signature milkshakes such as Chocolate Fudge Brownie and Caramel Waffle Cone, as well as decadent treats including raspberry macaroons and chocolate-dipped marshmallows, join the assortment of handcrafted truffles, cupcakes and specialty brownies offered.
7 – Midship Detective Agency
We saw many families enjoy the Midship Detective Agency during the cruise. Using the Enchanted Art we mentioned above, guests can enjoy this interactive game that takes them all over the ship.
Using a game card that they hold up in front of select pieces of Enchanted Art, guests unveil clues and find missing objects, ultimately determining the villain and saving the day in an interactive detective adventure game.
Guests obtain game cards at a self-sign-in "detective desk" kiosk, where they also receive a map of the Enchanted Art pieces that are part of the game for them to explore.
The game card has a 2D barcode—a square marker pattern that is read by a camera, causing something to happen. Since each game card has a unique barcode pattern, the game software can track each player's progress.
Each game features several possible endings and multiple randomized events – so each time a guest plays, they have a different adventure.
8 – Enchanted Garden
For dinner, we enjoyed our time at Enchanted Garden, one of the other rotational dining venues on the Disney Fantasy. Enchanted Garden is a whimsical, casual restaurant inspired by the gardens of Versailles that features a dining environment that transforms from day to night.
Enchanted Garden emulates an elegant conservatory in the rolling hills of France. There are white trellises, spring-green arches and original artwork depicting lush landscapes. Custom glass "flower" light fixtures are above. Light posts line the restaurant's center promenade. A terrace fountain with cascading water rises seven feet tall, with a fanciful cherub Mickey Mouse statue at its pinnacle.
At breakfast and lunch, the restaurant is bright with the light of a blue-sky day. In the evening, the illuminated ceiling transitions into a nighttime constellation of twinkling stars. The light-fixture flowers "bloom" and become infused with color, wall sconces open to become beautiful folding fans and the centerpiece fountain is basked in shimmering light.
9 – Frozen: A Musical Spectacular
At the end of the day, we enjoyed another Broadway-style production at the Walt Disney Theater. "Frozen, A Musical Spectacular" is based on the Walt Disney Animation Studios' "Frozen," which is the No. 1 animated feature of all time. The acclaimed film earned two Academy Awards (2014) for Best Animated Feature and Best Original Song. The show follows the adventure of royal sisters Anna and Elsa as they embark on a journey to discover the meaning of sisterhood, inner strength, and true love. Fans of the film and newcomers alike will be enchanted by favorite characters brought to life onstage along with beautiful renditions of the movie's iconic music.
The show features dynamic costumes and sets, remarkable special effects, and spectacular production numbers that delight Disney Cruise Line guests in new and surprising ways. The creative disciplines blend to create a seamless environment – blurring the lines between costume and scenic, set piece and video, puppet and puppeteer – and expand upon the most imaginative elements of the film.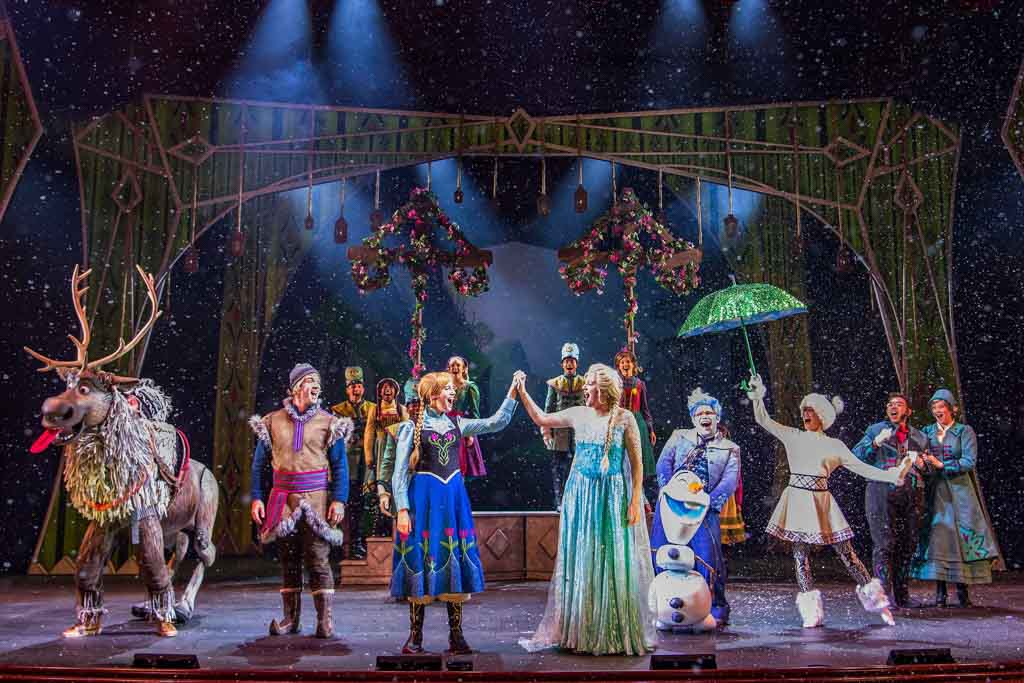 A stand-out moment, the emblematic ballad "Let it Go" is transformed into a full-fledged stage spectacle. Complete with real-life magic – transformative scenery, snow flurries, and state-of-the-art video technology – this show-stopping number brings Elsa's enchanted icy blasts to reality like never before.
Tip: Arrive even earlier for this popular show. At 7:55 pm, there was already a long line to get into the theater. Every seat was taken by about 8:20 pm for an 8:30 pm showtime.
Learn more about Pixar Day at Sea on the Disney Fantasy
Read about our voyage to hear more about the experience, learn tips and tricks for cruising, and read our reviews of all the unique offerings.
Articles with Cruising Tips and Tricks 
Learn more about the Disney Cruise line and our Pixar Day at Sea Cruise on the Disney Fantasy!
TRAVEL LOG: Getting Ready to Sail on Our Pixar Day at Sea Cruise on the Disney Fantasy!
TRAVEL LOG: Day 1 of Our Pixar Day at Sea Cruise on the Disney Fantasy – Arrival Day
TRAVEL LOG: Day 2 Our Pixar Day at Sea Cruise on the Disney Fantasy – Sea Day
Click here for a full review of the Hey Howdy Breakfast with Woody and Friends to learn more and get tips and tricks for the best dining experience.
TRAVEL LOG: Day 3-Part 1 of Our Pixar Day at Sea Cruise on the Disney Fantasy – Pixar Day at Sea
TRAVEL LOG: Day 3-Part 2 Our Pixar Day at Sea Cruise on the Disney Fantasy – Pixar Day at Sea
TRAVEL LOG: Day 4 of Our Pixar Day at Sea Cruise on the Disney Fantasy – Tortola, BVI and Pirate Night
TRAVEL LOG: Day 5 of Our Pixar Day at Sea Cruise on the Disney Fantasy – San Juan, Puerto Rico
TRAVEL LOG: Day 6 of Our Pixar Day at Sea Cruise on the Disney Fantasy – Sea Day
TRAVEL LOG: Day 7-Part 1 of Our Pixar Day at Sea Cruise on the Disney Fantasy – Castaway Cay
TRAVEL LOG: Day 7-Part 2 of Our Pixar Day at Sea Cruise on the Disney Fantasy – Final Evening on the Ship
TRAVEL LOG: Day 8 of Our Pixar Day at Sea Cruise on the Disney Fantasy – Debarkation Day
Instagram Story with Photos and Video of our Cruise
Day 1 – Instagram Story Highlight – Arrival Day
Day 2 – Instagram Story Highlight – Sea Day
Day 3 – Instagram Story Highlight – Pixar Day at Sea
Day 4 – Instagram Story Highlight – Tortola, British Virgin Islands, and Pirate Night
Day 5 – Instagram Story Highlight – San Juan, Puerto Rico
Day 6 – Instagram Story Highlight – Sea Day
Day 7 – Instagram Story Highlight – Castaway Cay
For a no obligation, FREE Quote on a Disney vacation package, please contact our travel partner Magical Vacation Planner at 407-442-0227 (407-442-0215 for Spanish). You can also request a FREE quote online by Clicking HERE.
Editor's Note: Disney Cruise Line provided a complimentary Pixar Day at Sea Cruise with special media-specific events and tours during the cruise. However, as always, the thoughts and opinions about Disney Cruise Line in this article are entirely our own.